What is a CRM Software?
CRM – Customer Relationship Management software is a system that lets different departments like customer service, marketing, sales organize their notes, activities, and other important data into one platform. Every member of your team can access real-time client data they might need.
These days CRM software stores data in cloud systems, this lets team members seamlessly coordinate with each other from anywhere and simultaneously providing enhanced services to customers.
The old traditional systems were not competent enough to match the performance and capabilities of the CRM software. CRM systems simply revolutionized the whole way businesses used to operate and interact with the customers.
This pandemic has changed the way businesses used to operate; work from home has become the new normal, thus forcing companies to adopt digitalization at a much faster pace. The way departments like the sales team communicate with customers or simply communication between customers with them has changed. This has led to problems like client communication, marketing troubles, and Potential revenue. To eliminate these problems and stopping new problems to arise you need customer relationship software but with thousands of software's in the market how will you decide which one to opt for.
To make this process a little easier and save time, we decided to create a list of the top 10 best CRM software.
10 Best CRM Software's in 2023
1). FinCRM.com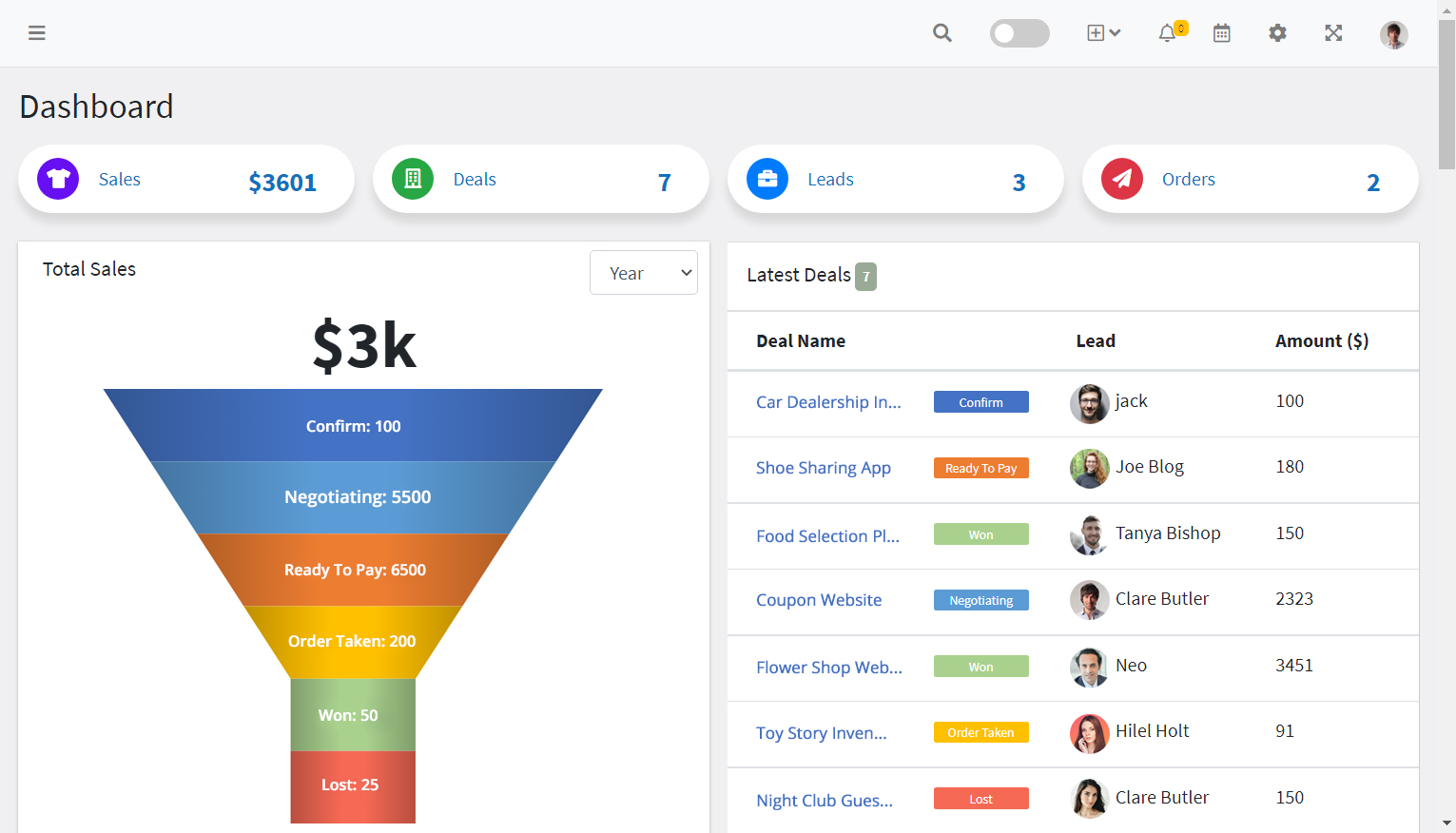 FinCRM.com is a robust CRM Software that is especially meant to benefit sales and marketing teams who use CRM and productivity apps.
FinCRM.com has made the transition from a formidable CRM system to a specialized sales-growth hub with the recent debut of its project management feature. Webform capture, drip marketing, and contact-email linkage are now all automated. Algorithms and alerts make life simpler, since working hard may be exhausting at times.
You're better than those teeny-tiny things you have to complete every day. You're aware of the data input and odd chores that must be remembered. We were able to reduce such duties by using Workflow.
Key Features:
Customer Relationship Management – Manages and follows up on leads, looks after current customers, maintains data, and responds to queries.
Sales Cycle Management – Identify and pursue prospects more efficiently, as well as track the state of the sales cycle and optimize your efforts.
Leads Tracking – Ensure that leads are followed up on and their status is updated promptly so that you can track and respond to them effectively.
Sales Tracking — Aids in the tracking of sales across different channels, the monitoring of sales force and the recording of lead and customer information.
Pros:
Built in project management module for adding tasks and documents etc
API that allows Integration with third-party apps
Filter, sort, and store data in the manner that you require.
Self hosted CRM Software (inexpensive and easy setup)
2). Pipedrive CRM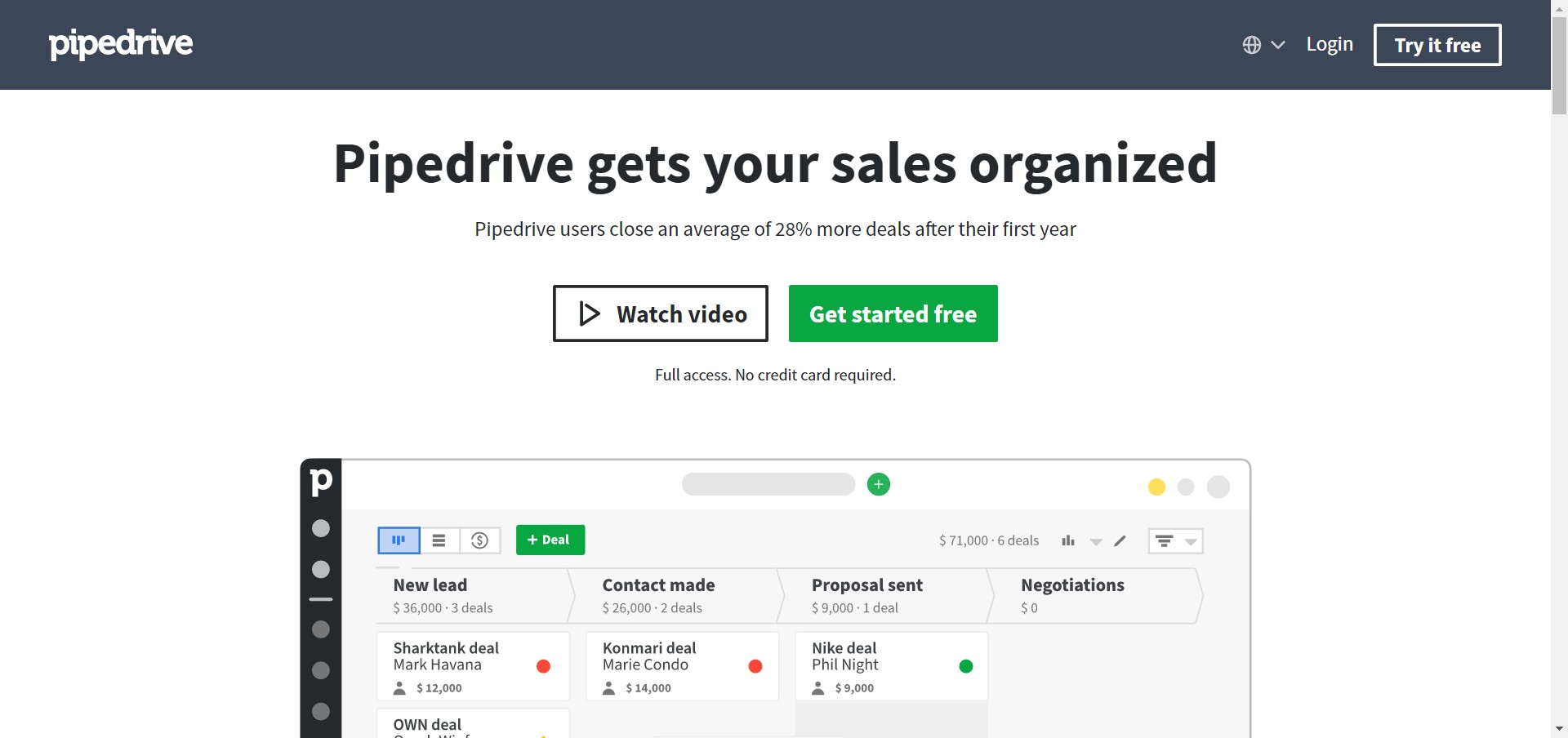 Pipedrive is one of the most loved Customer Relationship Management software built for minimizing input and maximizing output. It uses AI to automated tasks that are repetitive and effectively manage leads and sales. With its smart and industry-leading features like chatbot creation for websites, efficient reporting, and best user experience, it easily surpasses any CRM software present in the industry. Currently, they support over 90k customers and over $24 billion in deals have been done through their platform.
Key Features:
It comes with good email integration and a sales pipeline.
You can track leads and sales from chatbots, forms, and more on a 24/7 basis.
It lets you organize your pipeline and create custom stages (cold, warm, hot) by rep or team player.
You can use Pipedrive from your smartphone and even integrate it with other sales applications to increase your sales.
Pros:
You can easily add deals, win probabilities, values, and close dates.
With the option of unlimited custom fields, you can collect any information about the customer.
Custom reports let you track recurring revenue and revenue estimates.
You can track individual sales calls, emails, demos, and events through activity reports.
Lead source data reports exactly show where your leads are coming from (direct, SEM, organic, social, outbound sales, etc.)
You can create performance tips and automation recommendations through "Sales Assistant" to saves your productive hours.
3). Zoho CRM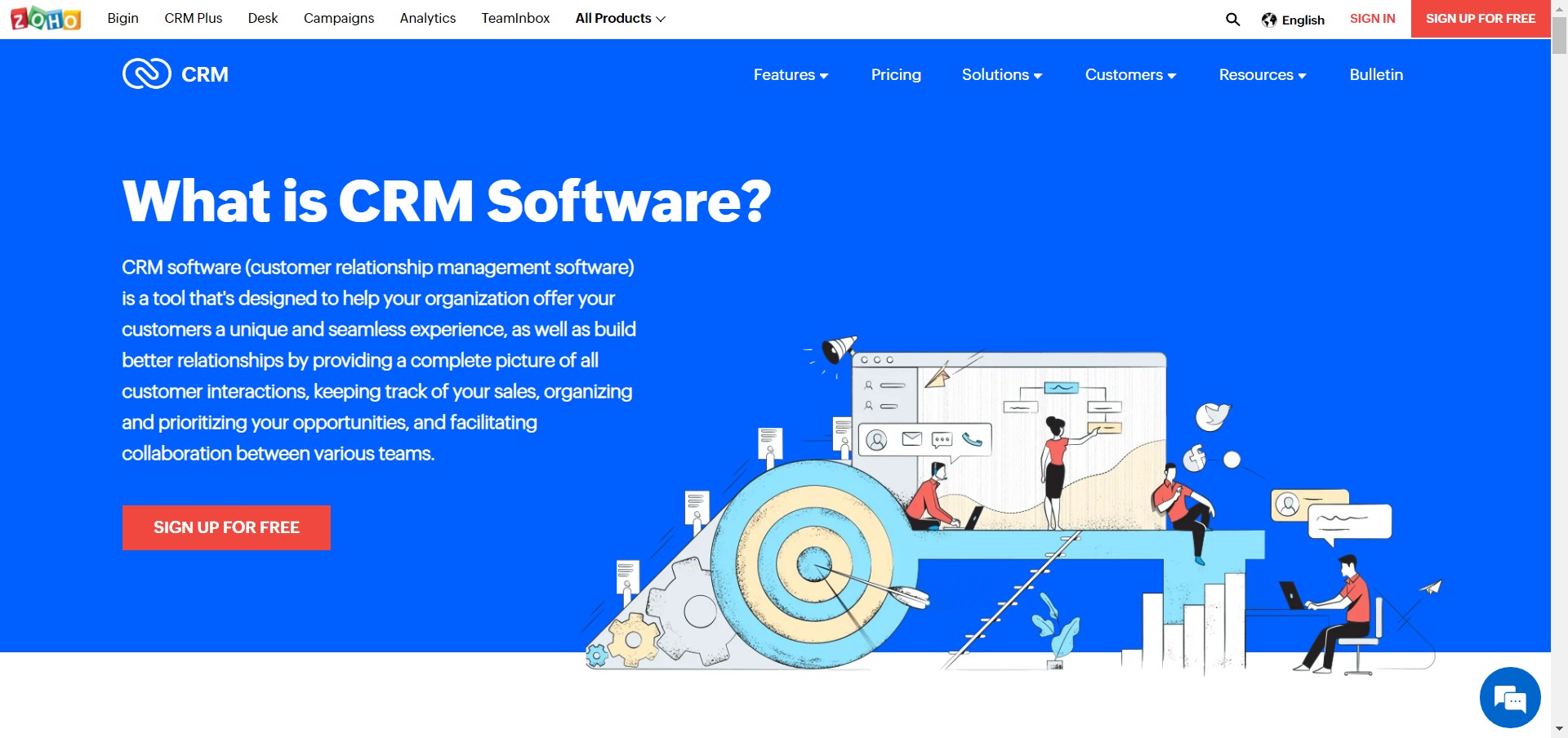 Excellent CRM for Small Businesses (SMBs)
Zoho CRM offers a 360-degree view of your business, tracks essential sales and marketing opportunities, and increases your conversion rates. 250,000+ businesses in more than 180 countries have trusted Zoho CRM globally, making it one of the most trusted and loved tools globally.
It is also the only player in this industry to have over 40 in-house apps for businesses that support mobile and also integrates with over 500 most popular business apps.Zoho CRM has also won the PCMag`s Editor`s Choice Award in 2020 and the Business choice Award in 2019 (the only player with a +ve NPS score) making it the most recommended CRM software by critics and users worldwide.
Key Features:
With sales automation tools you can manage contacts, deals, leads, accounts through macros and workflows.
The omnichannel platform lets you connect with customers across multiple channels.
Customizable reports and dashboards with different options to compare derive insight from your data, and contrast.
Mobile CRM app lets you store data, connect with customers, schedule tasks, and update information even when you`re not connected with the internet.
Inbuilt chat tool plus forums, notes, and groups to facilitate efficient team collab.
Pros:
Zoho CRM offers omnichannel customer support via live chat, email, phone, and social media.
Offers a highlevel of automation.
Highly customizable, scalable
Free 15-day trial
Integration of more than 100 third-party apps including Zapier, email integrations like Outlook. Google.
4). Salesforce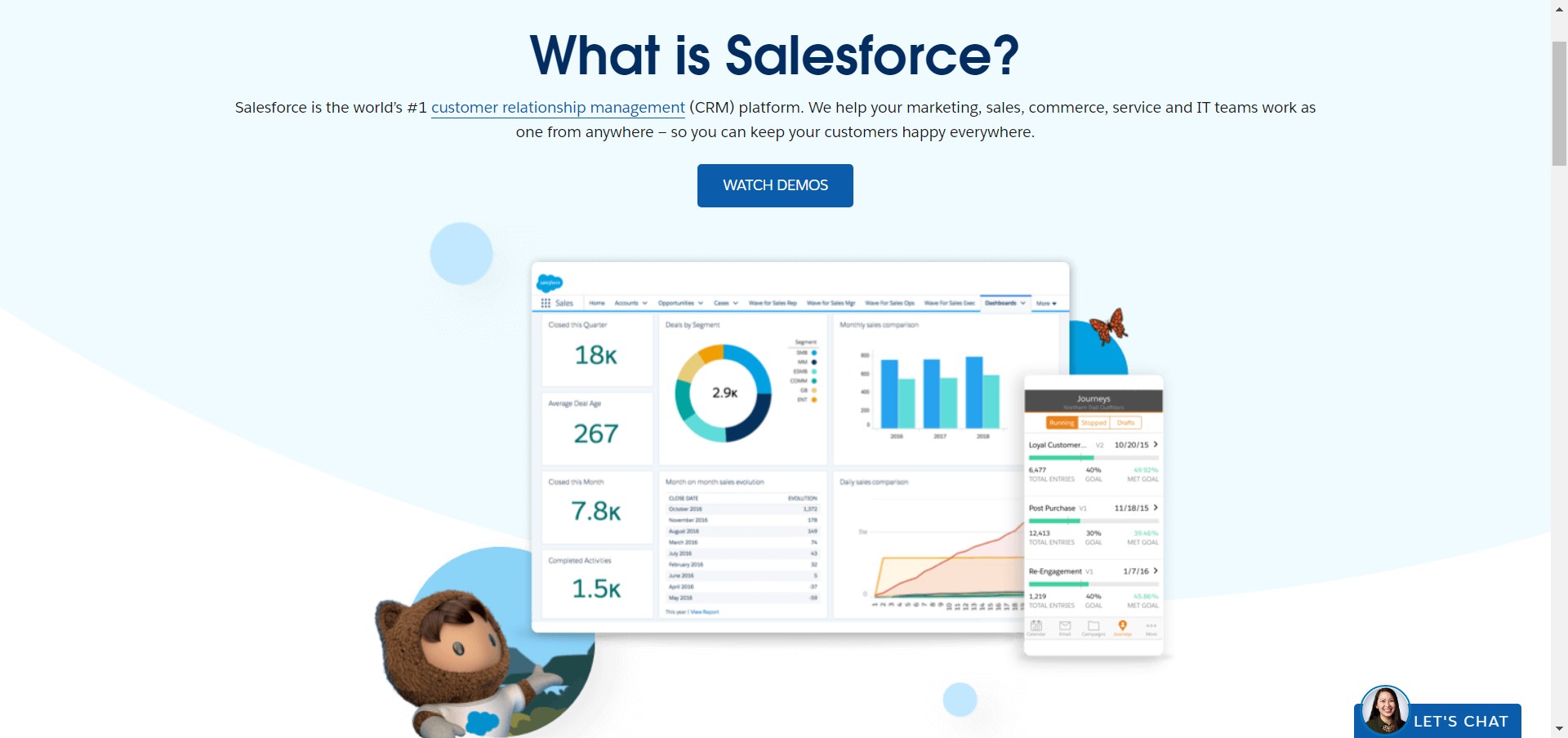 Best CRM Software for Enterprises
Salesforce is one of the most liked software in the industry with more than a million users worldwide.It`s a cloud-based CRM system that caters to almost all the fields of a business, including service, sales, analytics, marketing, and more.
Key Features:
Salesforce offers markets and communities and markets for leads and sales.
Email integration support is provided and helps to run apps
You get analytics, real-time visualization, and chatter.
It assists you in forecasting and keeps the customer engagement rate high all the time.
Pros:
Salesforce provides a custom dashboard.
User experience and navigating are very easy to use.
Social media tools help you to gain more attraction.
Its cloud-based abilities offer efficient management with business automation.
5). HubSpot CRM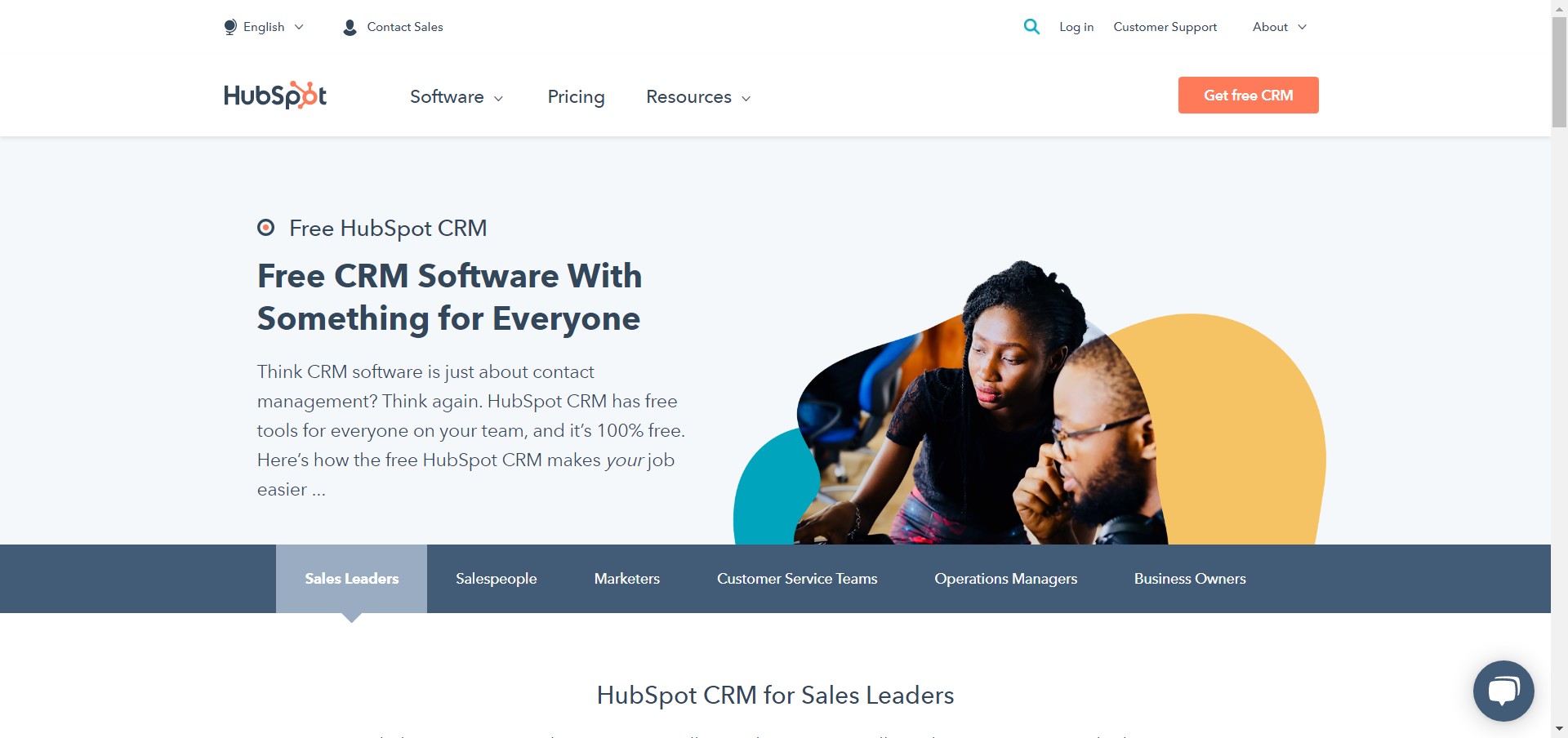 HubSpot CRM offers a full-featured marketing suite and it is one of the most popular CRM software available in the industry.
Due to its great capabilities and time-saving features, it becomes the best option for sales personnel. It can be of great use for marketing teams due to its industry-leading features like capture, track, and grow leads within a database. You get a 100% free version of this tool.
Key Features:
With great customization capabilities, you also get a board for tasks and great synchronization for marketing teams.
You also get great smartphone, mail, and website integration.
You can manage the pipeline with total visibility.
6). Insightly CRM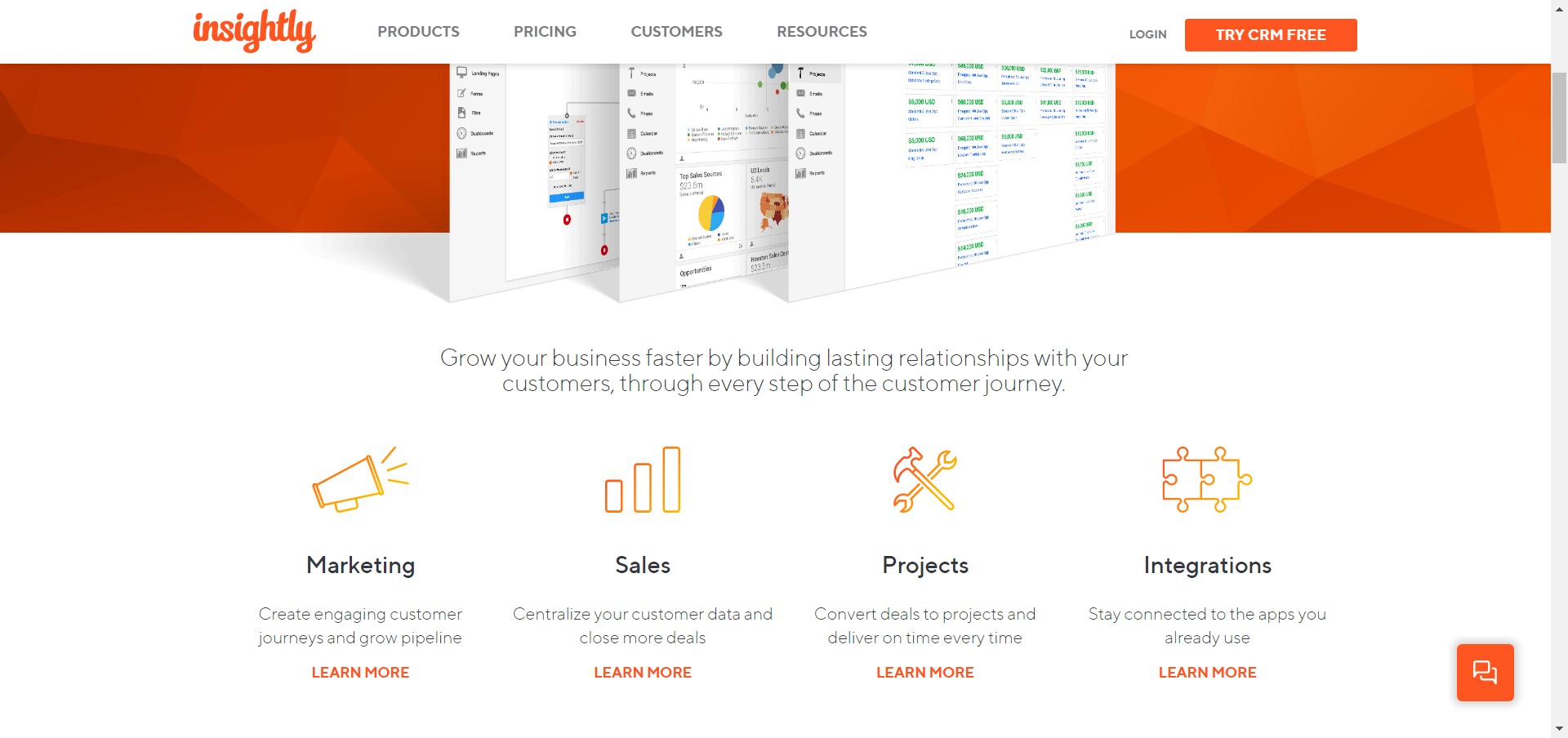 It is one of the modern CRM software that helps you grow your business at an unprecedented rate by building great customer relationships with customers.
Key Features:
This enables you to build strong relationships with your existing customers as well as get new customers.
You can integrate this with a wide range of apps like Gail, Mailchimp, Dropbox, Outlook, and even more.
You can monitor the performance of your sales team, track sales pitches, and monitor minute details of your sales funnel.
Pros:
Insightly CRM is compatible with mobile devices.
Highly flexible events and calendaring options.
One of the most affordable software`s and you can even get a 14-day trial.
7). Engagebay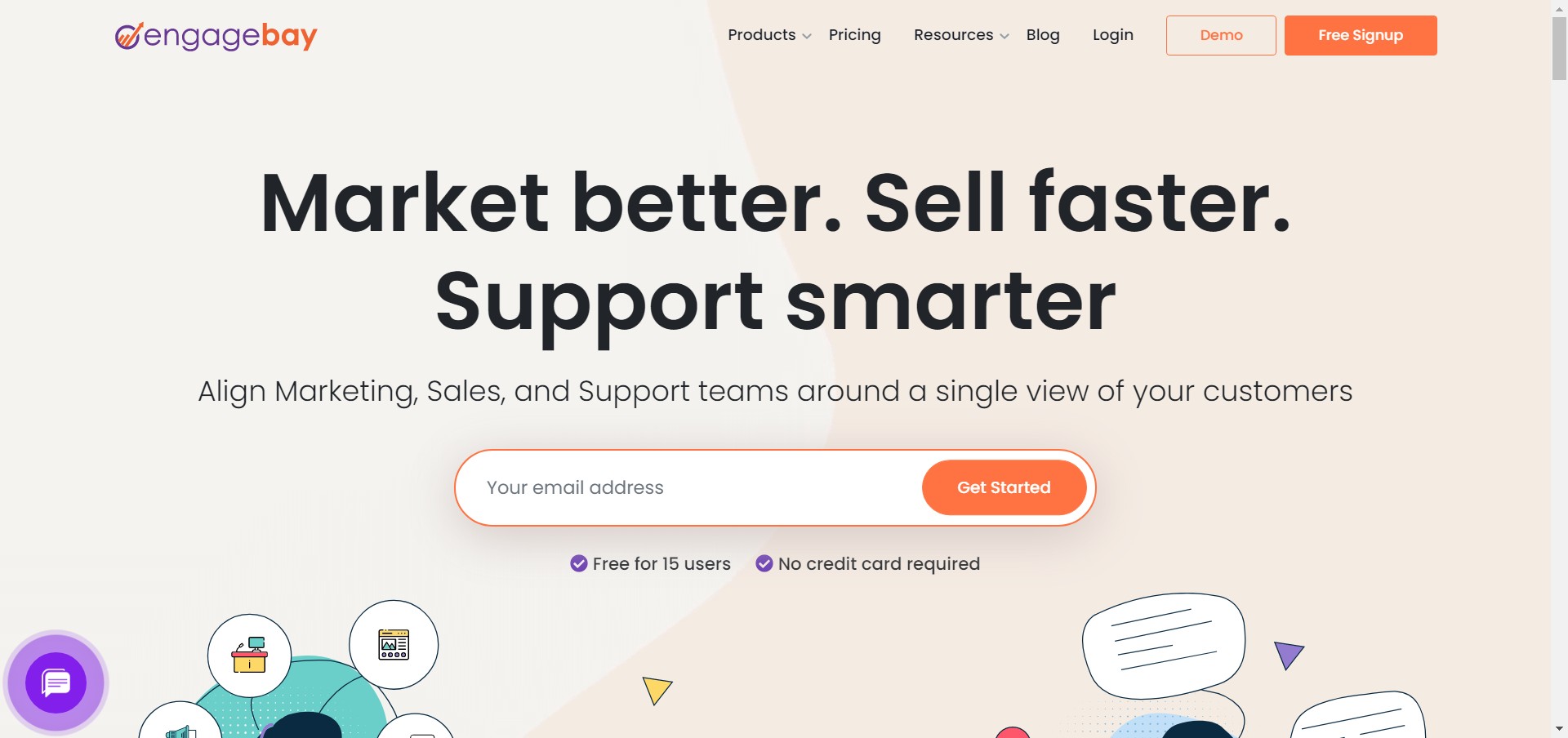 Engagebay is a cloud-based CRM that unifies various company operations and activities, such as sales, marketing, and accounting, on a single platform. Furthermore, the program focuses largely on automation for optimum productivity.
EngageBay's unified marketing suite gives organizations the tools they need to create, manage, and execute personalized marketing campaigns. Email campaigns may be created using a variety of pre-designed email templates or by utilizing the drag-and-drop interface to create them from scratch. Email marketing templates may be customized with custom photos, content, layout, share buttons, and more to create a branded message that engages new and existing consumers. To target particular groupings of users, EngageBay allows customer segmentation, which is determined by conditional variables such as age, geography, kind of consumer, purchase history, and more.
Key Features:
Email Marketing — Engagebay has a fantastic module with A/B testing, autoresponders, CAN-SPAM compliance, dynamic content, event-triggered mailings, and more.
Marketing Automation — Customizable CTAs, drip campaigns, sales intelligence, website visitor monitoring, and more features are available.
Lead Generation — Import and export contacts, lead capture, database integration, nurturing, scoring, segmentation and more tools help you generate more leads.
Social Media Marketing —Analytics, contact management, automatic posting, content management, and multi-account administration are all possible with social media marketing.
Pros:
Integrations with a variety of third-party apps, including Zapier, Xero, and others.
Ensures data security, integrity, and compliance with regulations (GDPR-compliant).
Customer service is available through phone, live chat, email, and ticket.
It's very adaptable and scalable.
For all customers, real-time, consolidated information is available (including previous interactions and purchases).
8). Nimble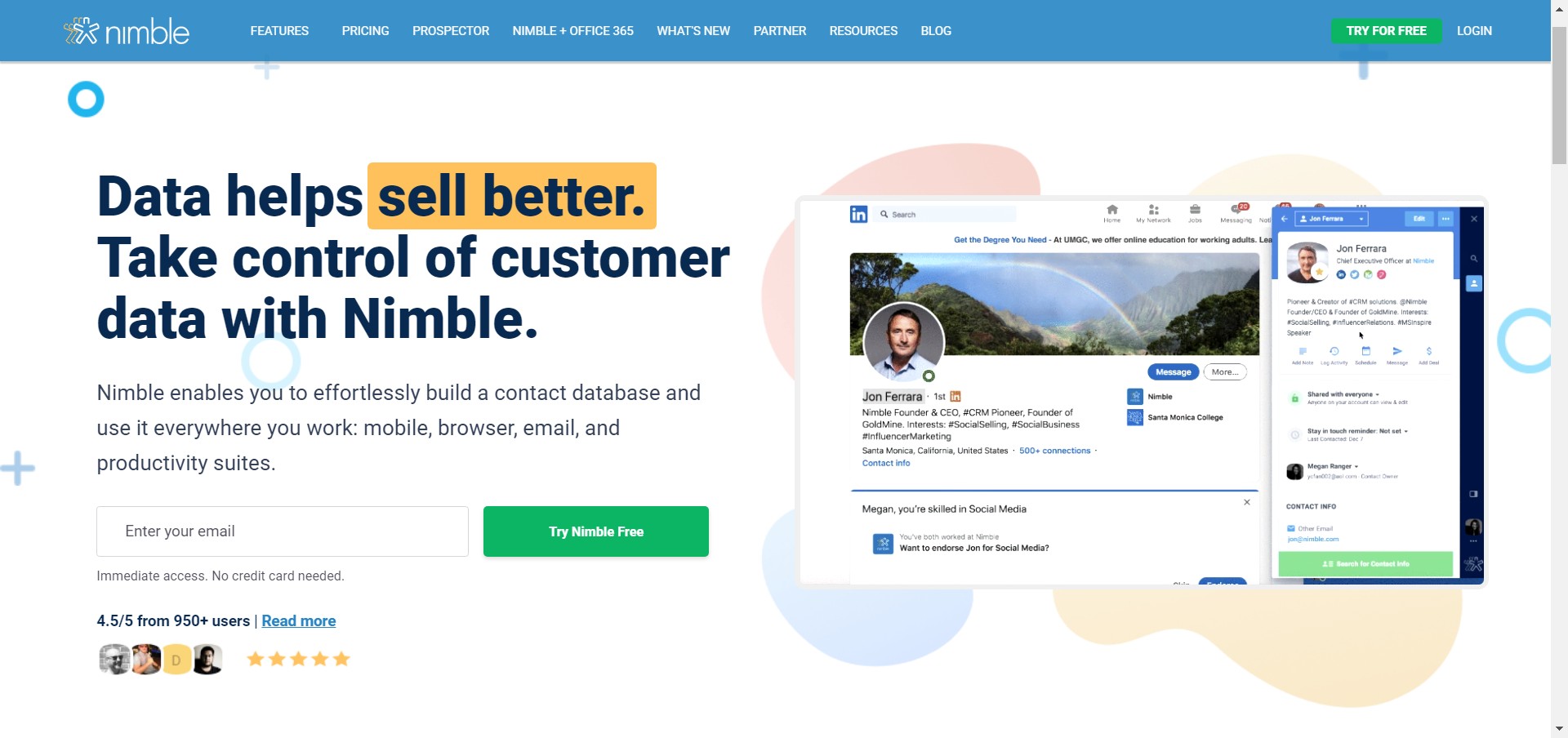 Nimble is an award-winning contact management solution for teams and individuals that is built on the industry-leading CRM for Office 365 and G Suite. It takes care of everything by connecting with productivity applications like inboxes and calendars, providing a simplified user experience, and was created to assist business teams in closing more transactions, quicker.
It has several useful features, including the ability to update contacts, quickly access company and contact data, and manage transactions from within your workflow. Thousands of small to mid-sized company teams use Nimble to effectively nurture their personal and professional connections across email, social media, and over 90 cloud-based business apps.
Key Features:
Relationship Management — Combines and collates social network relationships, conversations, inboxes, and calendar appointments automatically.
Pipeline management – Uses visual representations of pipelines to keep on top of every stage of the sales funnel.
Segmentation – segmenting your contacts into lists to execute various activities helps you stay organized.
Live Profiles – Also with actionable, accessible contact records that allow you to instantly find contact information and history.
Pros:
The prospector tool enables you to go to a website and obtain professional information on people who aren't listed there.
A revamped smart contacts app is available (enhanced widget to support, calendars, tasks, deals, and more).
Task management allows you to create and allocate tasks to various team members.
Gmail, Outlook, HubSpot, Mailchimp, and other third-party connectors are among the many available.
9). Monday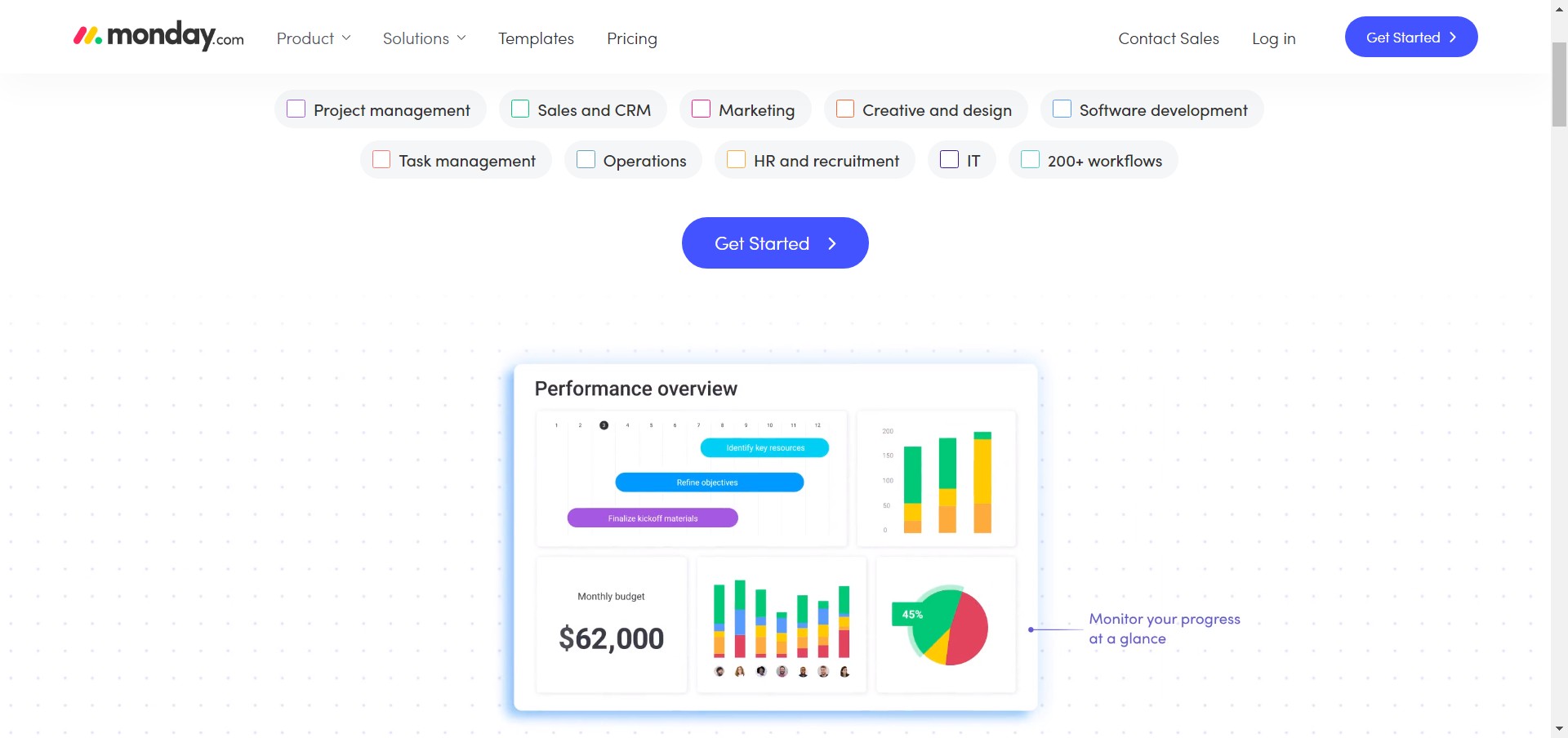 Monday CRM software will help you to handle client data, interactions, and procedures in the manner that you choose. It will keep all of the information safe. Through an integrated contact form, you will be able to gather leads online. Leads gathered on other forms can likewise be automatically added. Monday.com allows you to import leads from a variety of sources.
Key Features:
Customer Relationship Management – Manages and follows up on leads, looks after current customers, maintains data, and responds to queries.
This CRM software will allow you to create and modify a dashboard to meet your specific needs for data analysis.
It includes options for establishing automated reminders, receiving due date alerts, and automatically allocating new tasks to colleagues.
It will provide you a comprehensive picture of your sales, procedures, and performance, among other things.
Pros:
It is a one-stop-shop that is simple to use.
It may be tailored to your sales process.
It features a powerful search engine.
It also has features like time monitoring, chart viewing, and a private board.
10). Nutshell CRM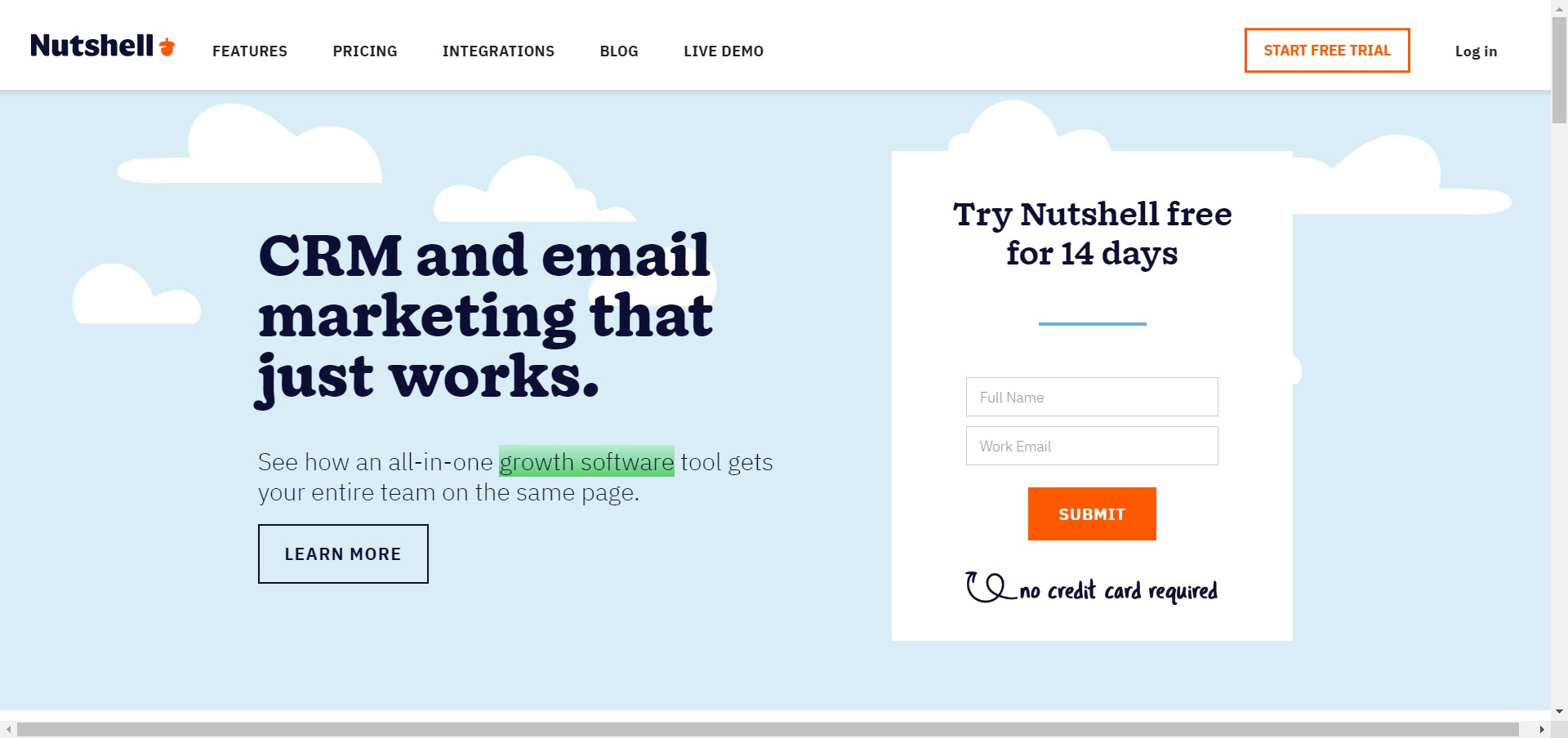 Nutshell Marketing was introduced in 2021, allowing Nutshell clients to design and send attractive marketing emails while also measuring their interaction in real-time. Nutshell Marketing integrates perfectly with your CRM data, allowing you to quickly target specific audiences and manage all of your outreach from a single platform.
Nutshell is an all-in-one CRM and email marketing platform for companies that are wary of juggling several sales and marketing tools and don't want to hire a full-time administrator to keep track of their software.
Nutshell is simple enough for any user but sophisticated enough for any business. Every subscription includes world-class live support and unlimited data storage, as well as a wide range of automation tools that help sellers and marketers save time on customer outreach and collaborate to close more deals.
Key Features:
Reporting & Performance Tracking –Instantly monitor your sales performance by diving down by product, salesperson, lead source, and more with reporting and performance tracking (sales report, forecast report, loss report, activity report, funnel report, dashboards).
Sales Automation – Use sophisticated technologies to automate most operations for optimum productivity.
Extensive Integrations — Eliminates the need for an IT department by integrating with Mailchimp, Constant Contact, Intercom, Outlook, Slack, and other third-party services.
Pros:
Pipeline management in its entirety (drag-and-drop board view, list view, chart view).
Data security, data integrity, and regulatory compliance are all ensured (GDPR compliant).
Takes snapshots twice a day, weekly, and monthly to provide continuous backups.
You can send bulk emails.
Mobile devices support is provided.
Importing and exporting information is simple.
It creates an environment that is conducive to collaboration.
Conclusion
Because not all CRM systems are suitable for all company needs, it's a good idea to scan the market and test out Self Hosted CRM Software like digitalcrm.com also. In the end, the ideal CRM system for a business is determined by the balance between a company's needs, the size and breadth of its sales staff, and how the firm interacts with its customers.