FinCRM.com is a leading provider of
CRM software
in India.
FinCRM.com has assisted a number of Indian companies in providing custom CRM Solution
CRM refers to systems and software that an enterprise can use to manage and analyze interactions and data throughout the customer lifecycle. It improves business relationships with customers and prospects
India is one of the fastest growing economies in the world and is a hub to many software companies. FinCRM.com is a prominent CRM Software company based in India.
Using FinCRM.com Indian companies can manage customer data, access business information; automate sales and marketing process and increase productivity
FinCRM.com has six main modules:
Contact Management – Contact Manager helps maintain contacts, leads, accounts, customers, phone numbers, e-mails etc in a centralized place
Lead Management– Capture more leads from various sources like website, form, CSV, mobile, contacts, email and easily categorize them as per lead status
Sales Force Automation– Automate entire sales flow in one platform and streamline lead-to-sale processes giving managers the ability to track sales performance
Sales Pipeline – Shows status of leads and their respective stage like Customer lost, Customer Won, Leads, Negotiation, Proposal, Prospects etc
CRM Dashboard– Provides an updated view of your entire sales funnel, reports, lead status, customers, sales, users on a interactive dashboard
Reports and Analytics – View customers, deals, leads, sales – day/week/month reports online and leverage it to improve your sales and marketing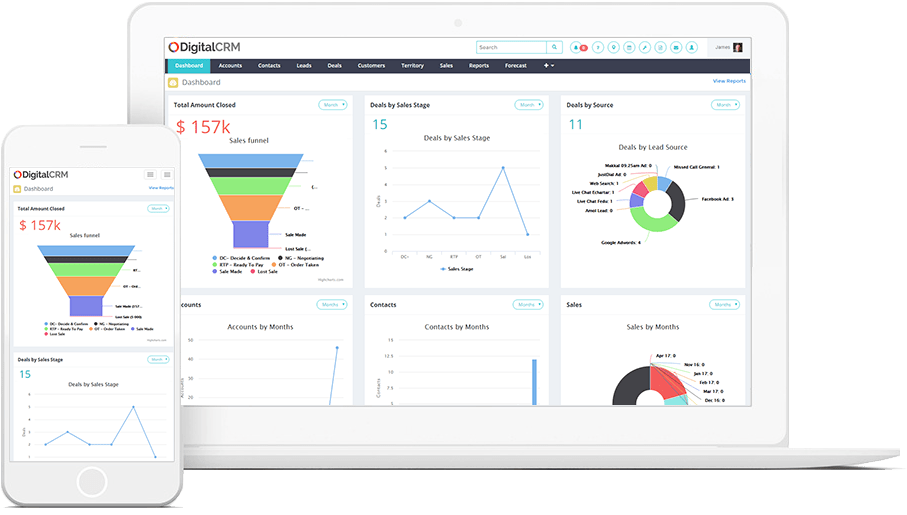 FinCRM.com provides custom CRM software for Indian companies based on as per specific requirement.
To request additional information on our CRM software, please contact us