What is customer support?
Customer support is a service provided by the company to interact with customers and anticipate their needs. This enables a company to provide highest customer satisfaction to its customers.
Customer support involves the work carried out by each employee of the company who has contact with the customer, to provide advice and solutions to customers.
The efforts and work of all employees of the organization should be directed in one direction i.e. focusing on the client or as a center. The customer support department is responsible for the relationship, listening, and understanding of requests, doubts, complaints, and grievances made by the recipients of the sector regarding contractual services or products received.
Providing customer support is an integral part of every CRM Software.
FinCRM.com – Customer Relationship Management (CRM) software helps an enterprise to manage various customer service functions and increase productivity.
Communication with the client is a competitive advantage, as sales and service may have common profiles. But the differentiating element that emphasizes the value of the company is the attitude towards the clients.
All customer service policies need to focus on a deep knowledge of customer expectations and needs in order to meet them in order to ensure their loyalty. Customer satisfaction should be the ultimate goal of every company.
How to provide Customer Support?
Customers mobilize both emotions and reasons, so the customer service department, in addition to the technical aspects, must take both the aspects into account. Communication, listening, diversity recognition, body language, eye contact are some of the key aspects of a personal interview. In a telephone interview, the voice is the image of a person, so the customer support should be facilitated with more formal communication including simple and concise messages in which expressions and words are key elements.
When the company offers technical support, there are three points that should always be ensured:
Immediate attention
Effectiveness
Efficiency
For managed and efficient customer support CRM Software with customer support module is used. The software can help a company to earn customers mind and heart.
It is a tool for interacting with customers, providing guidance to ensure the use of a product or service. There were days when customer support was the responsibility of the person answering on the fly, phone calls and emails were left behind. Now, in what has been called the customer era, companies are beginning to realize the importance of customer support.
Features of Customer Support Software
Some of the features of the customer support software are listed below:
The customer support software is able to take the queries or complaints from any source: web forms, facebook, twitter, online chat, email or phone.
Social Support and ticketing
The customer support software integrates with social sites like Facebook and Twitter, and automatically takes each comment and converts it into a ticket. The response of the agents goes directly to the source channel.
The customer support software integrates a powerful chat module at no additional cost, ready to be implemented on your website.
The customer support software takes comments from visitors to its products and manages them in an efficient and centralized manner.
You will be able to build the help website that your clients require, publish web resources (videos, tutorials, manuals, technical specifications, pdf, pages) that your clients can use anywhere and anytime, have the online help software it will reduce investment in support personnel and allow you to provide better customer service. In addition, your internal team may also use internal resources that will allow them to provide a better service to the client.
Agents and supervisors can have a comprehensive vision of all communications with customers, in a single efficient and fast interface.
The history and activity of a client can be visualized to provide a response to a query or incident.
Scheduling of reminders, notes or alarms in a convenient calendar can be done with the customer support software
You will never miss a business lead or a sales opportunity tracking module by using customer support CRM Software.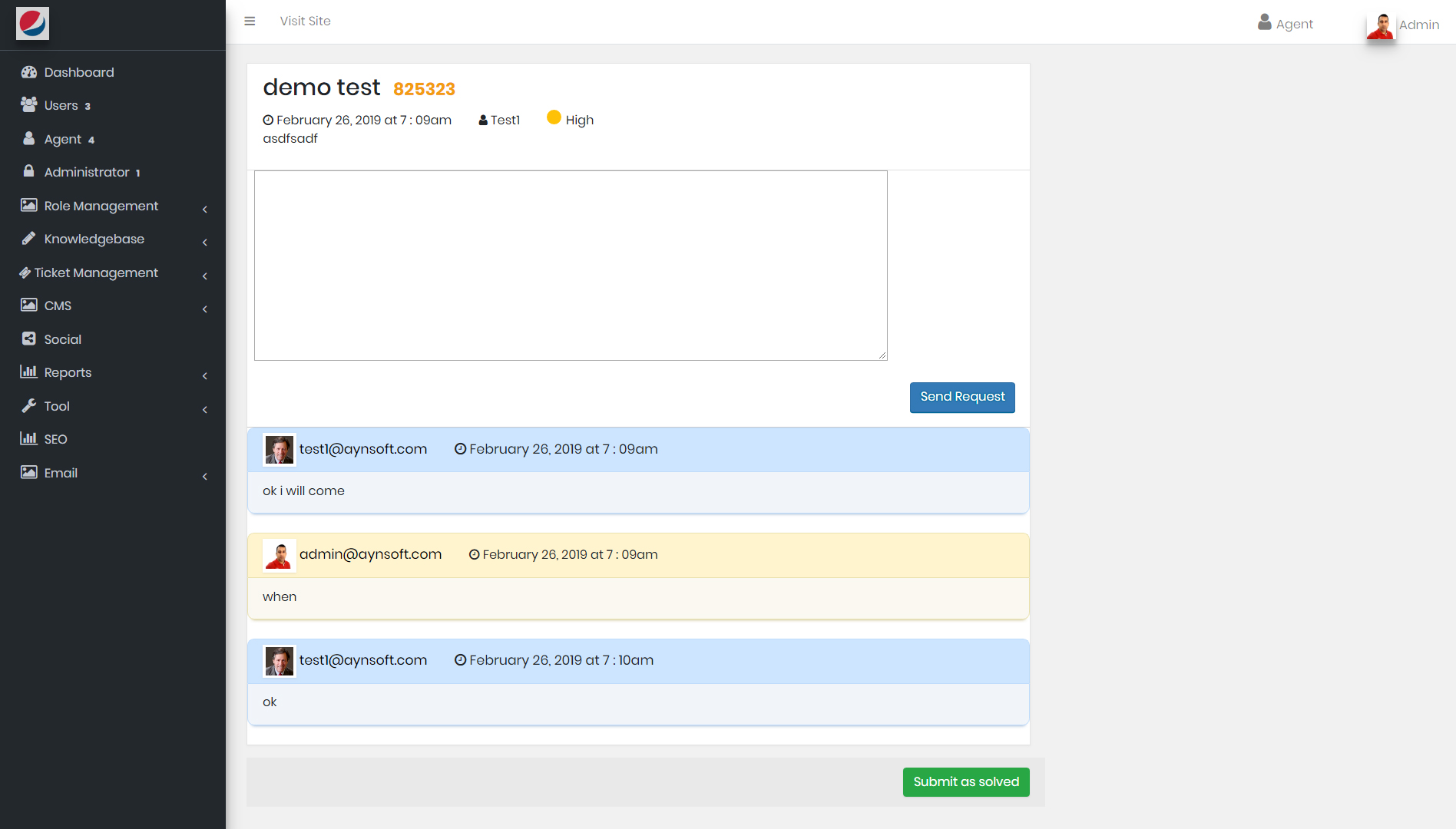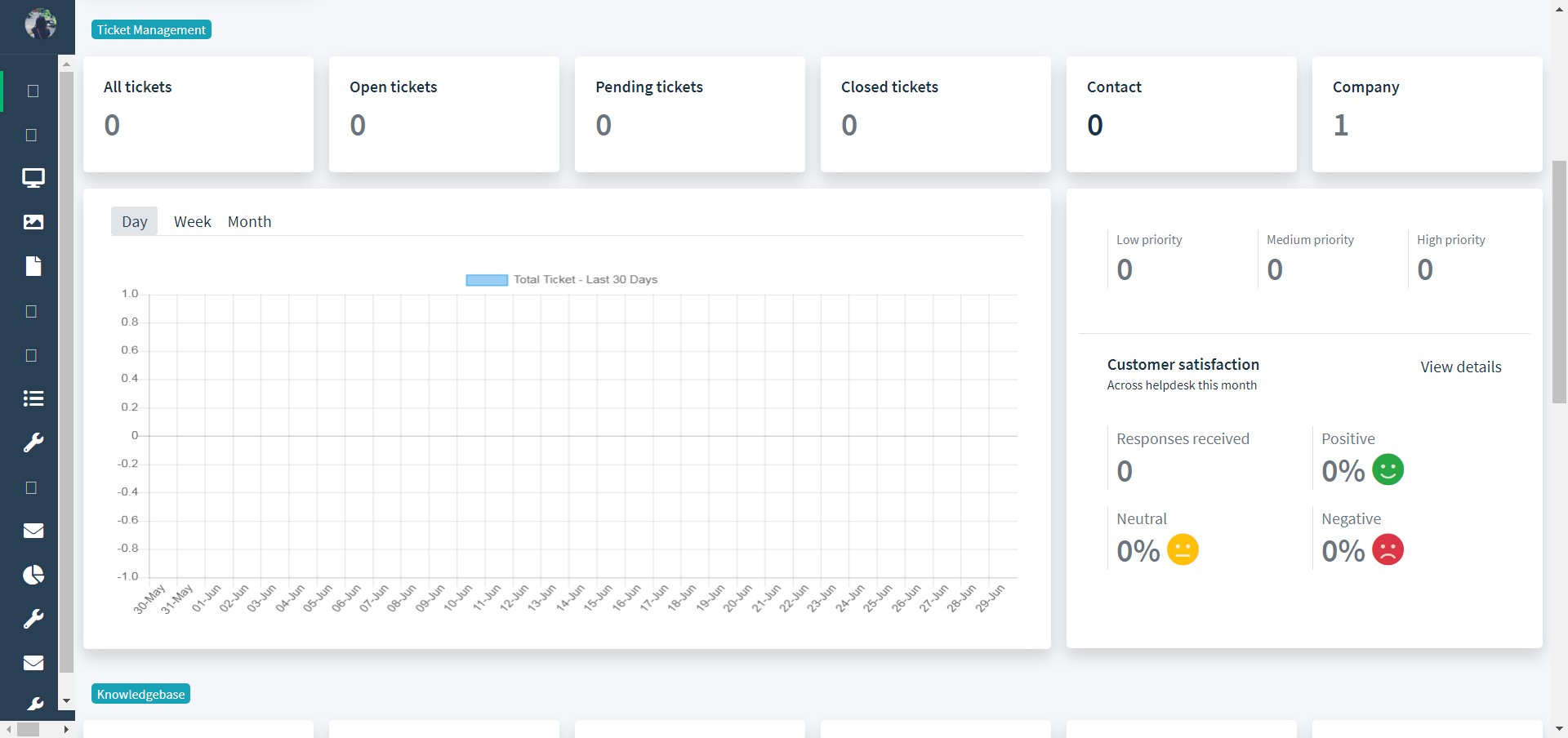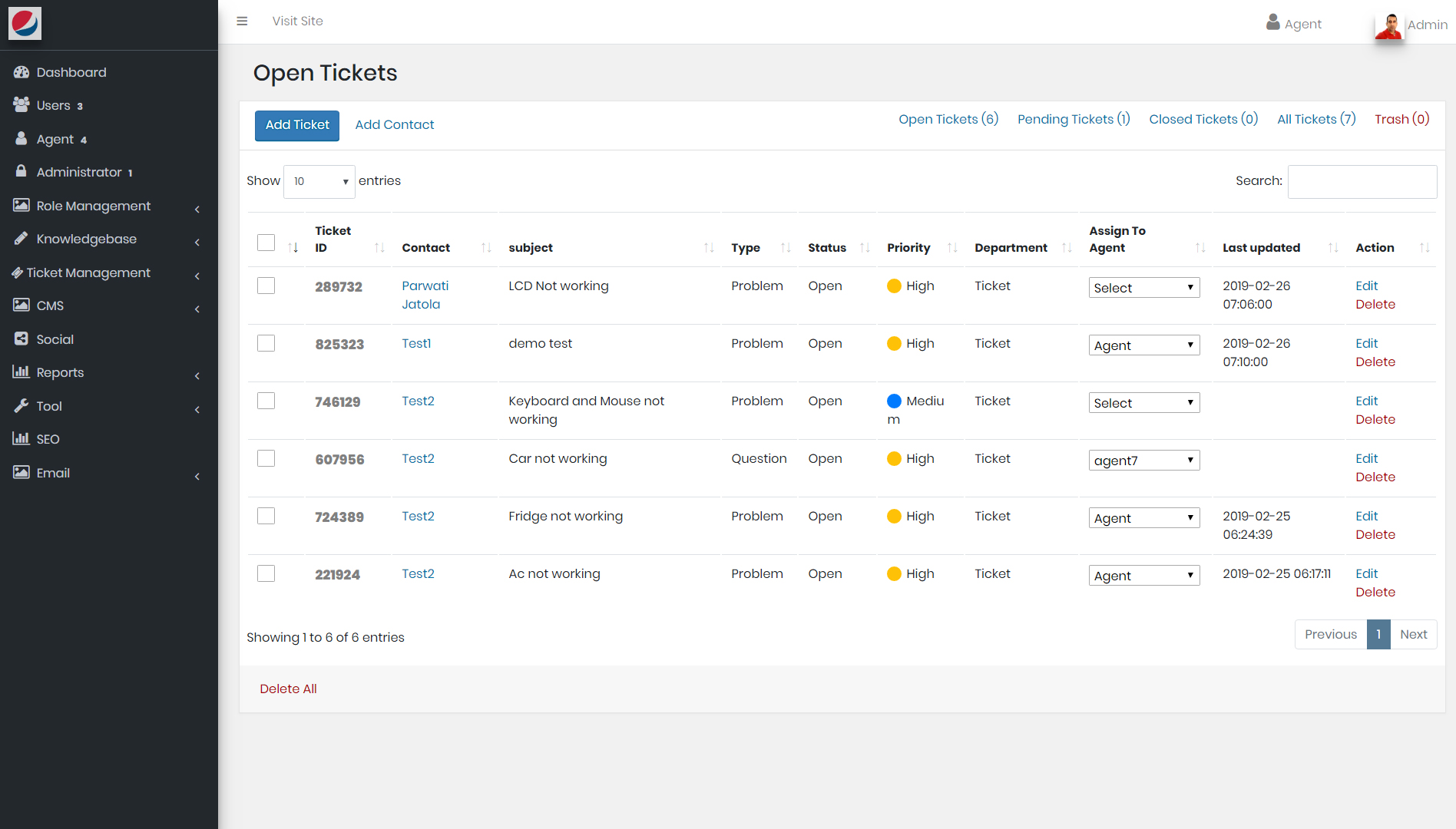 The benefits of Customer Support Software:
Customer support software allows you to create and manage customer queries through a centralized database rather than tracking them all via email. You can track incidents from the moment they are created until they are resolved.
Each incident created implicitly carries a specific question or complaint that can be assigned to a member of the support team or a designated department for adequate follow-up.
The benefits of customer support CRM Software are listed below.
1. Store and retrieve information in one place
Messages are stored on the same platform. There is no need to exchange emails to understand the issue under discussion, which enables different people to collaborate.
Imagine that you have requests for tasks waiting at the same time, and postpone the answer to a certain number of days. It's great to be able to reopen an incident and see all relevant information at once, rather than dig through all the emails sent a few days ago.
2. Receive information and data
You may have experienced that information is power. Customer support software gives you access to statistics and key support indicators, which are listed below:
The time to resolve incidents created within the selected date range.
The average time it takes for a user to respond to a customer's incident report for a specified period of time.
Time with the most traffic of the day:
New incidents and incoming messages by date and time. This allows you to evaluate the moments with the lowest and highest traffic in terms of incidents.
All responses sent by each user within the selected date range.
A summary of the clients who created the largest number of incidents in the selected date range.
3. Improve customer satisfaction
Once you know through statistics what type of assistance customers most often request, you can schedule meetings with each of them to listen to their
comments or discuss how you could improve your service. After all, your most dissatisfied customers are your best source of training. You will be surprised at the number of things they want to share with you.
Customer support software also gives you constant access to complete customer information, previous interactions, and payment and billing information, which in turn helps you to customize your service.
Assuming that a customer you've already talked to has contacted you again, you'll automatically get access to the last time you asked for technical support, what the problem was, how it was resolved, and how long the customer had to wait to get a solution.
4. Save time and resources
In the age of customers, the support that you offer is undoubtedly one of your most important assets (maybe the most important). Your support service is the voice of your company, as it talks to your customers every day. Don't waste time trying to get an email or talking to your colleagues to gather the right information, as it will affect your performance.
This is where customer support CRM software comes into play: you lose less time because you can centrally sort and assign incidents, which will increase your efficiency and reduce response time.
5. Improve transparency and collaboration
If your support group consists of only one person, you can manage one mailbox. But once you add another person to your team, you will need to find the best ways to communicate internally.
With customer support software, you can have multiple people working on the same problem, with a shared global real-time view of the incident. Take, for example, the case where people from different departments in your company, such as sales, development, and design, need to agree to solve a problem that requires the cooperation of different team members.
You can also find out who was involved in each incident, and you will even be able to track the time spent on each problem. Each time one of your team
members requests sick leave or leaves the company, you can reorganize and reassign incidents with a single click.
Additional benefits of customer support software:
With full multi-channel support features, customer service teams can develop a special relationship with their customers by choosing their
preferred channel: social networks, chat, mobile, etc.
The response time and improves the problem-solving process will reduce.
Contracts and service level agreements (SLAs) will be managed in real time which will ensure superior service through dynamic channeling and request queue management.
The Company will be able to listen, communicate and interact with customers and potential customers in any channel without sacrificing the
quality of service they expect under their own conditions.
A company can improve customer service and agent productivity with FinCRM.com customer CRM software. It is easy to use, reliable, customizable & scalable.
It has dashboard, ticketing, contact management, advanced reporting modules, thus enabling a company to improve response times and provide better customer service.
View the Free Trial Now of customer support software – https://fincrm.com/crm/login